Am I Still Me? - Order Information
Frequently Asked Questions


Pricing - $7.50 per copy

Optional Envelopes
$0.15 each

U.S. Shipping & Handling
1 copy - $1.50



For larger orders:

Contact Us


Order Now

How Big is the Book?
5 7/8 inches tall by 8 1/2 inches wide
Paperback cover, Comb binding

Will it Hold Up With Heavy Use?
The book has a laminated cover. Pages are heavy stock, and the binding allows the book to lie flat on a desk or wheelchair table.

Order Now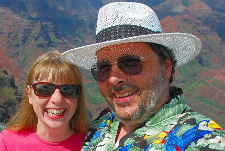 Angela Hunt is a reference librarian who suffered a traumatic brain injury February 14, 2005, and has achieved "a full recovery". Am I Still Me? is her second book since her fall.

Jim Hunt has enjoyed amateur photography and darkroom work since he was a teenager.