About Am I Still Me?


The poetry of Am I Still Me? addresses the wake behind the storm of many life events that initiate significant change. If you know friends who have been in a car accident, sisters who are going through menopause, patients who have had a life-altering injury or disease, anyone who has suffered post-traumatic stress, stroke and cognitive function issues; or if you have taken a dramatic spill yourself, these words just might ring true, provide understanding, and give encouragement.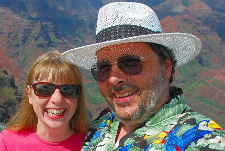 Angela Hunt is a reference librarian who suffered a traumatic brain injury February 14, 2005, and has achieved "a full recovery". Am I Still Me? is her second book since her fall.

Jim Hunt has enjoyed amateur photography and darkroom work since he was a teenager.